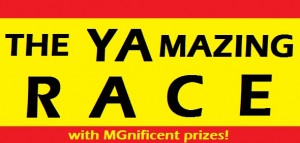 Welcome Amazing Racers! You've reached the Smashing Pumpkin leg of the YAmazing Race with MGnificent Prizes, a week-long blog hop featuring 50+ young adult and middle grade authors giving out spectacular prizes. No tricks, just treats, including a $20 Amazon gift card from yours truly because I have great news!
Books are all about words, right? But publishing is all about numbers. An author needs enough people to buy enough books in order to keep publishing. And my great news? Enough of you bought my YA contemporary debut, WELCOME, CALLER, THIS IS CHLOE, so I'm writing the follow up book, GOODBYE, REBEL BLUE. This is another stand-alone YA contemp, and it's the story of Rebecca (Rebel) Blue, a snarky rebel who reluctantly completes the bucket list of a dead, do-gooder classmate. On this life-changing journey, bad girl Rebel butts heads with a nice guy, a gimpy dolphin, and pains from her past. WARNING: There will be a few laughs, a little kissy-kissy, and some serious moments as Rebel struggles with BIG issues. Stuff like death and destiny.
Thanks for stopping by and sharing my great news! Your next pit stop on the YAmazing Race is the wonderful web home of Author Heather Anastasiu.
Bonus Contest: GOODBYE, REBEL BLUE will release Fall of 2013. Celebrate with me and enter the Rafflecopter below to win a $20 Amazon gift certificate!