As a special treat for readers, I shared four holiday recipes in my Christmas mystery, LIGHT PARADE, including this amazing recipe for Amaretto Hot Chocolate. Of all the hot chocolate recipes I taste-tested, this was my favorite. It was rich but smooth, so smooth I could have had a few mugs of Amaretto Hot Chocolate! LIGHT PARADE is a short holiday mystery from my Det. Lottie King Mystery Series.
Get your FREE copy of LIGHT PARADE, A DETECTIVE LOTTIE KING HOLIDAY MYSTERY and more hot chocolate recipes: Amazon, B&N, iBooks, Kobo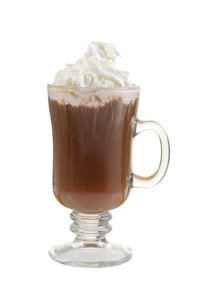 Amaretto Hot Chocolate
Yield: Serves 2; Prep time: 10 minutes
Ingredients
Best-Ever Hot Chocolate Recipe (*see below)
2 oz Amaretto
Whipped cream (optional)
Shredded coconut (optional)
Directions
1. Make one basic Holiday Hot Chocolate recipe.
2. Add Amaretto.
3. Pour into mug and top with whipped crea and shredded coconut.
* Best-Ever Hot Chocolate Recipe
Ingredients
1/2 cup water
2 T Dutch Cocoa
2 cups whole milk
4 oz bittersweet chocolate, finely chopped
2 T organic raw sugar
2 T heavy cream
Pinch of salt
Dash of vanilla extract
Directions
1. Heat water to simmer. Stir in cocoa and whisk until lumps are gone.
2. Add milk and heat to just starting to simmer. (Don't boil!)
3. Take off heat and add chocolate. Let sit for one minute as chocolate melts.
4. Put back on heat. Add sugar, cream, salt, and vanilla. Stir for 2 or 3 minutes.
5. Pour into mugs and ENJOY!