Living in the American Southwest, Mexican food has been a part of my life for as long as I can remember. So imagine my delight when I discovered this recipe for Mexican Hot Chocolate with Kahlua. It's great for the holidays or for those chilly evenings when we're entertaining outdoors. (And yes, we entertain on the patio year-round in Arizona!) This Mexican Hot Chocolate has a nice kick that's smoothed out by the chocolate shavings and whipped cream. The recipe below first appeared in LIGHT PARADE, a short holiday mystery in my Det. Lottie King Mystery Series. Get your FREE copy of LIGHT PARADE, A DETECTIVE LOTTIE KING HOLIDAY MYSTERY and more hot chocolate recipes: Amazon, B&N, iBooks, Kobo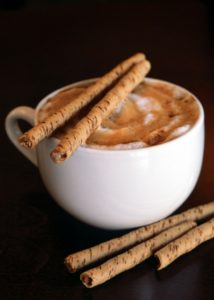 Mexican Hot Chocolate with Kahlua
Yield: Serves 2; Prep time: 10 minutes
Ingredients
Best-Ever Hot Cocoa Recipe
2 oz Kahlua
Dash of cayenne pepper
Dash of nutmeg
Cinnamon stick
Whipped cream (optional)
Chocolate shavings (optional)
1. Make one basic Holiday Hot Chocolate recipe.
2. Add Kahlua, cayenne and nutmeg and stir with cinnamon stick.
3. Pour into mug and top with whipped cream and chocolate shavings.
* Best-Ever Hot Chocolate Recipe
Ingredients
1/2 cup water
2 T Dutch Cocoa
2 cups whole milk
4 oz bittersweet chocolate, finely chopped
2 T organic raw sugar
2 T heavy cream
Pinch of salt
Dash of vanilla extract
Directions
1. Heat water to simmer. Stir in cocoa and whisk until lumps are gone.
2. Add milk and heat to just starting to simmer. (Don't boil!)
3. Take off heat and add chocolate. Let sit for one minute as chocolate melts.
4. Put back on heat. Add sugar, cream, salt, and vanilla. Stir for 2 or 3 minutes.
5. Pour into mugs and ENJOY!