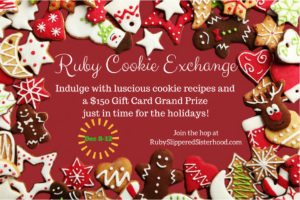 Holiday greetings book and cookie lovers! You've reached Author Shelley Coriell and the next leg of the scrumptuous Ruby Cookie Exchange hosted by authors of the Ruby Slippered Sisterhood. Below is a free book, great recipe, and details on how you can win a $150 gift card. Yep, that's some serious holiday cheer from your Ruby Sisters.
NEWSLETTER & PRIZE GIVEAWAY: Do you enjoy a good mystery, thriller, romantic suspense, or books about STRONG WOMEN of all ages? Sign up for my NON-SPAMMY newsletter to learn about my latest releases, contests, and recipes. Everyone who signs up for my newsletter gets a chance to win a print copy of your choice of one of my books. (I write everything from award-winning dark and twisty thrillers to sweet coming-of-age teen books…perhaps there's a Christmas giftie lurking here!)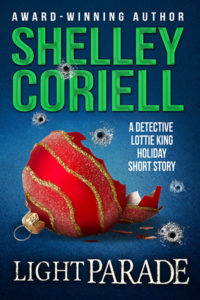 FREE HOLIDAY STORY: I'm thrilled to offer each of you a FREE Det. Lottie King Mystery: LIGHT PARADE. In this fun and fast-paced holiday short story, Det. Lottie King–a sassy, salty retired homicide detective–battles the clock and an unexpected Big Bad as she joins Colorado Springs police in a race to find a bomb planted at a Christmas light parade where her Girl Power troop is marching. Includes BONUS recipes. A perfect gift for cozy and crime mystery lovers! I call this my Grandma-with-a-Gun series.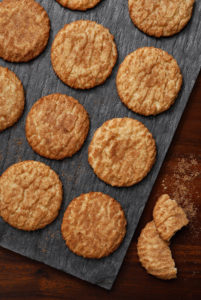 MY FEATURED RECIPE: BROWN BUTTER SEA-SALT CARAMEL SNICKERDOODLES
Sweet and salty with a gooey center and a cinnamon kick! Seriously the best cookie recipe on the planet!
Yield: Two dozen cookies; Prep time: 1 hour and 15 minutes; Total time: 1 hour 30 minutes
Ingredients
1 cup unsalted butter, sliced
2 1/2 cups all-purpose flour
1 teaspoon baking soda
2 teaspoons cream of tartar
1/2 teaspoon ground cinnamon
1/4 teaspoon sea salt
1 1/4 cups dark brown sugar
1/2 cup granulated sugar
1 large egg
1 egg yolk
2 teaspoons vanilla extract
1 tablespoon plain Greek yogurt
1 cup caramel squares, cut in half
For rolling the cookie dough:
1/4 cup granulated sugar
2 teaspoons ground cinnamon
Sea salt for topping cookies
Directions
1. Place sliced butter in heavy-bottomed saucepan and cook over medium heat, whisking often until it turns brown and you smell a nice, nutty aroma. Set aside to cool.
2. Whisk flour, baking soda, cream of tartar, cinnamon, and sea salt in a medium mixing bowl and set aside.
3. In a large mixing bowl, cream together the browned butter and sugars. Beat in egg, egg yolk, vanilla extract, and Greek yogurt. Mix in dry ingredients until just combined.
4. Form the dough into a large ball, cover tightly with plastic wrap, and place in refrigerator for 30 minutes.
5. Pre-heat oven to 350 degrees.
6. Divide and measure chilled dough into one tablespoon portions, and roll each into a ball. Flatten balls with palm and place one caramel half onto each circle. Tuck dough around caramel and roll into a smooth ball again.
7. Mix 1/4 cup sugar and 2 teaspoons ground cinnamon in a small bowl. Roll dough balls in sugar mixture and place on baking sheet. Sprinkle with sea salt.
8. Bake snickerdoodles for 8-10 minutes until brown around the edges but still soft in the center and there are cracks on the surface of the cookie. Allow snickerdoodles to cool 2-3 minutes on the baking sheet. Transfer to wire rack and let cool.
$150 GRAND PRIZE: If you're collecting recipes for the Ruby Cookie Exchange $150 gift card grand prize, this is Author Shelley Coriell's BROWN BUTTER SEA-SALT CARAMEL SNICKERDOODLE stop. Be sure to stop by the next Ruby on the Cookie Exchange. Here's a complete list of authors and their recipes. Contest ends Dec. 8-12.
*Autumn Jordon
*Lizzie Shane
*Rita Henuber
*Elizabeth Langston
*Heather McCollum
*Shelley Coriell
*Laurie Kellogg
*Liz Talley
*AnneMarie Becker
*Jeannie Lin
*Diana Layne
*Lara Archer
*Jennifer Bray-Weber
*Kate Parker
*Katie Graykowski
*Jacie Floyd
And don't forget to sign up for my newsletter to win a print copy of any of my books. Good luck!
Christmas Joy & Peace!
Shelley