Last November I embarked upon a great quest to find the perfect hot chocolate recipe. I wanted something steamy and creamy and a tad bit decadent. I tried dozens of variations: with cream, whole milk, half and half, and even nut milks; with cocoa powder and/or chocolate with varying percentages of cacao; and with and without salt and vanilla. After extensive taste testing with My Guy, here it is, the Best-Ever Holiday Hot Chocolate! This version is wonderfully creamy and full of bold chocolate flavor, perfect for sipping while curled up with a good book or sharing with friends during the holidays. Happy sipping! This recipe first appeared in LIGHT PARADE, a short holiday mystery from my Det. Lottie King Mystery Series.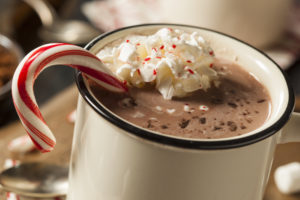 Yield: Serves 2; Prep time: 10 minutes
Ingredients
1/2 cup water
2 T Dutch Cocoa
2 cups whole milk
4 oz bittersweet chocolate, finely chopped
2 T organic raw sugar
2 T heavy cream
Pinch of salt
Dash of vanilla extract
Directions
1. Heat water to simmer. Stir in cocoa and whisk until lumps are gone.
2. Add milk and heat to just starting to simmer. (Don't boil!)
3. Take off heat and add chocolate. Let sit for one minute as chocolate melts.
4. Put back on heat. Add sugar, cream, salt, and vanilla. Stir for 2 or 3 minutes.
5. Pour into mugs and ENJOY!
Get your FREE copy of LIGHT PARADE, A DETECTIVE LOTTIE KING HOLIDAY STORY and more hot chocolate recipes: Amazon, B&N, iBooks, Kobo