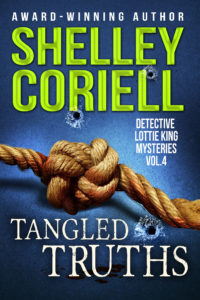 Authors aren't supposed to have favorites, but TANGLED TRUTHS, the fourth volume of my Det. Lottie King Mystery Series which comes out Dec. 26, is hands-down the best in the series. This book, with all of its twists and turns, flew off my keyboard, and the characters, with all of their pains and passions, were so clear and real in my head. But what makes TANGLED TRUTHS truly special is the growing buddy story between Lottie and her greenhorn P.I. partner Oliver T. Figg. She's a Grandma with a Glock and plenty of street smarts. He's a privileged young pup with more attitude than aptitude. Let the shenanigans and crime fighting begin!
In TANGLED TRUTHS, veteran homicide detective Lottie King teams up with nube private investigator Oliver T. Figg to catch killers, but while on the hunt, she uncovers a tangle of secrets from Figg's past that could destroy their P.I. agency…and cost lives.
Because I'm so excited about my latest Det. Lottie King mystery, I'm offering TANGLED TRUTHS for $2.99 to anyone who pre-orders the book by Dec. 25. On release day, the price increases to $3.99. Happy reading!
Pre-Order Now: Amazon, iBooks, Kobo
Joy & Peace!
Shelley