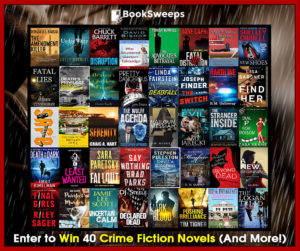 Happy summer! A quick note to let you know I've teamed up with 35+ fantastic mystery and suspense authors to give away a huge collection of crime fiction novels AND a Kindle Fire to two lucky readers. Included in this giveaway is print copy of my book, NEW SHOES: Detective Lottie King Mystery Series, Vol. 2, plus books from authors like New York Times bestsellers Lisa Gardner. Enter the giveaway here and good luck!
In addition, I've included one of my favorite summer recipes below: a sophisticated pasta salad full of flavor and a bit of attitude. When I'm on deadline, I'll double the batch and keep in the fridge for a quick lunch. Which reminds me: new book news coming soon! In the meantime, here's my current book list.
Bonus Recipe
Got tomatoes and basil this summer? Here's a light but sophisticated pasta salad bursting with the bright flavors of summer. Serve with tossed greens and fresh melon for a lovely light supper. Also a great summer potluck dish.
Pasta Salad with Slow-Roasted Tomatoes
Serves 4-6 as a side
Roasted Tomatoes
4 cups grape tomatoes
Olive oil
Salt
Dressing
1 clove garlic, crushed
1 tablespoon dried oregano
1 teaspoon sea salt
Freshly ground black pepper
2 tablespoons lemon juice
2 tablespoons red wine vinegar
1/4 cup olive oil
Salad
1/2 pound dried bite-size pasta (I like gemelli), cooked al dante and drained
1/2 cup cotija or feta cheese, crumbled
1/2 cup pine nuts, toasted
1/2 cup pitted and halved olives (I love kalamata)
Salt and pepper
Handful fresh basil leaves, chopped
Heat oven to 300°. Cover 2 baking sheets with parchment paper. Cut tomatoes in half and place cut side up on baking sheets. Drizzle with olive oil and a dash of salt. Bake until slightly dry, about 90 minutes. Cool. Next, for dressing, mix garlic, oregano, salt, and pepper in a small bowl. Whisk in lemon juice, vinegar, and oil. (This is a bold, sassy dressing. But it really sets this pasta salad apart!) Finally, to assemble salad mix drained pasta, roasted tomatoes, cheese, pine nuts and olives in a large bowl. Add dressing. Top with basil. Adapted from Smitten Kitchen
Enjoy!