A few years ago my husband and I planted our first winter garden. Living in the Arizona desert, we planted kale, spinach, lettuce, broccoli, and cauliflower. Lots of cauliflower, so much that first year that I was cooking two large heads a week. I made cauliflower tortillas, roasted cauliflower with garlic and lemon, cheesy cauliflower, even cauliflower-chickpea tacos, but my favorite cauliflower recipe that I discovered in the Year of Abundant Cauliflower is creamy Cauliflower Potato Soup. Easy and creamy, it pairs beautifully with a fresh loaf of sourdough and a cantaloupe wedge or two. Double the batch, and you'll have leftovers for lunch. This recipe for Creamy Cauliflower Potato Soup can be found in NEW SHOES, Vol. 2 in my Detective Lottie King Mystery Series. Delish!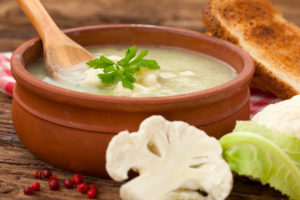 Creamy Cauliflower Potato Soup
Creamy and comforting and loaded with vegetables. Healthy, too, if you nix the bacon and extra cheese!
Yield: Serves 4; Prep time: 30 minutes; Total time: 45 minutes
Ingredients
1 teaspoon olive oil
1 cup thinly sliced leeks, white and light green parts only
4 cloves garlic, minced
2 medium potatoes (like russets), peeled and diced
2 cups chopped cauliflower florets
2 cups chicken stock
2 tablespoons butter or butter-substitute (like Earth Balance)
2 tablespoons flour
1/2 teaspoon freshly ground black pepper
1/2 teaspoon ground mustard
1 cup milk
4 ounces reduced-fat processed cheese (like Velveeta), cubed
Additional chicken stock to thin, if needed
Toppings
Green onions, thinly sliced
Bacon, cooked and crumbled (optional, but Lottie-approved)
Sharp cheddar cheese, grated (optional, but Lottie-approved)
Directions
1. In a large saucepan, heat oil on medium. Add leeks and cook for about 5 minutes, stirring occasionally. Add garlic and cook for 1 minute, stirring frequently. Add potato, cauliflower, stock and 1 cup water. Turn heat to high and bring to a boil. Reduce heat to low, cover, and simmer until vegetables are soft, about 20 minutes.
2. In a small saucepan over medium heat, melt butter. Slowly add flour, pepper, and ground mustard. Whisk constantly for about 2 minutes. Gradually whisk in milk and stir until thickened. Add reduced-fat cheese and stir until melted. Remove from heat.
3. Using an immersion blender, puree vegetables until smooth. Or you can carefully transfer soup to blender in small batches, puree, and return to sauce pan.
4. Add cheese sauce to pureed soup and stir. Add additional stock to thin to desired consistency.
5. Top with green onions.
Enjoy!
From the creative kitchen of award-winning author Shelley Coriell
www.shelleycoriell.com