I've been in the deep, dark writing cave the past few months but popped out at the end of September to get in our winter garden, one of the joys of living in the Desert Southwest. The seedlings are really taking off this week. Lots of good lookin' cauliflower, broccoli, spinach, chard, and two types of kale. Plus our peppers are still going like crazy. Jalapenos anyone??? I can't wait to use garden kale for my fave green smoothie which I included in NEW SHOES, Vol. 2 in my Detective Lottie King Mystery series. This Tropical Green Smoothie recipe is a good green smoothie for those of us who aren't crazy about banana-heavy drinks. The secret ingredient: avocado. Enjoy!
Tropical Green Smoothie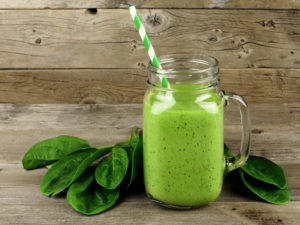 Ultra creamy, naturally sweet, and green, green, green!
Yield: Serves 1; Prep time: 5 minutes; Total time: 5 minutes
Ingredients
1 cup spinach or lacinato kale
1/2 cup coconut water
1/2 cup pineapple juice
3/4 cup frozen chopped pineapple
3/4 cup frozen chopped mango
1/2 avocado
1 tablespoon chia seeds
Directions
1. Combine greens and coconut water in high-speed blender and blend until completely smooth. (You don't want little green bits getting stuck between your teeth!)
2. Add remaining ingredients and blend until smooth.
From the creative kitchen of award-winning author Shelley Coriell.