Veggie-loaded Cajun Jambalaya is one of my family's favorite dishes and always on the menu when my girls return home from college for the holidays. For my seafood-loving clan, I often double the shrimp and always serve with a big salad and crusty homemade sourdough bread. This recipe appears in NEW SHOES: Detective Lottie King Mystery Short Stories, Vol. 2. Enjoy!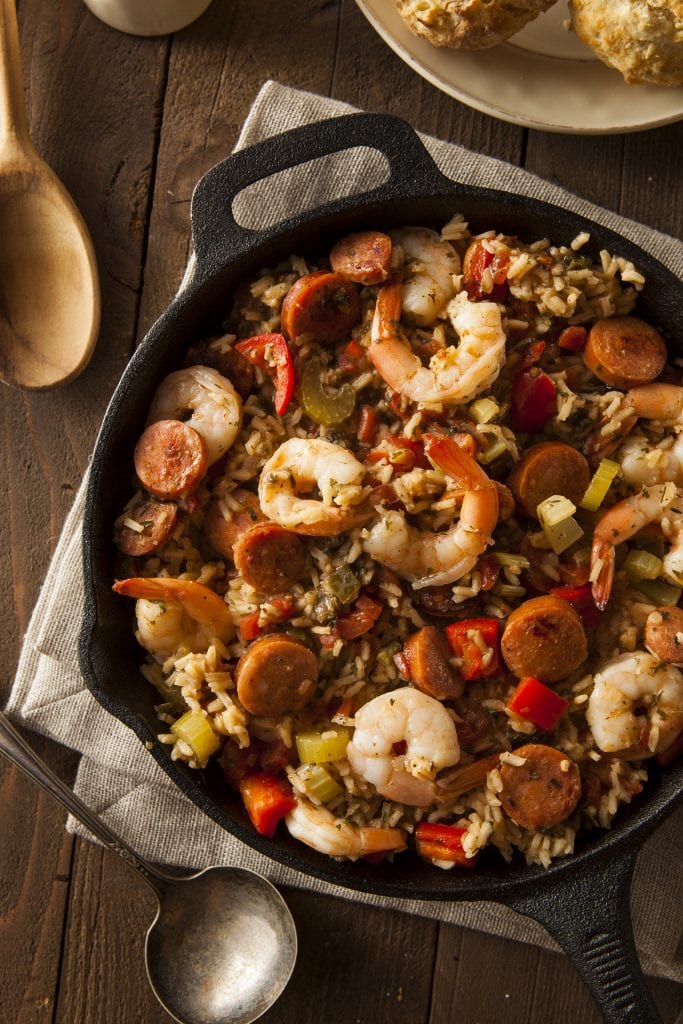 Cajun Jambalaya
Spicy and meaty with a hefty serving of vegetables.
Yield: Serves 6; Prep time: 20 minutes; Cook time: 35 minutes
Ingredients
1 pound medium shrimp, peeled and deveined
1/2 pound kielbasa, sliced
1/2 pound chicken breasts, chopped
1 teaspoon salt
1 teaspoon paprika
1/2 teaspoon black pepper
1 teaspoon garlic powder
1/4-1/2 teaspoon cayenne pepper
1/2 teaspoon dried oregano
1/2 teaspoon dried thyme
2 tablespoons olive oil
1 medium onion, chopped
1 green bell pepper, chopped
1/2 cup chopped celery
1 red bell pepper, chopped
2 tablespoons chopped garlic
1 can diced tomatoes, drained (reserve juice)
3 bay leaves
2 teaspoons Worcestershire sauce
1 teaspoon hot sauce
1 cup rice
3 cups chicken stock
Directions
1. In a bowl combine shrimp, kielbasa, chicken and seven spices. Set aside.
2. Heat olive oil over medium-high heat and sauté onions, peppers, and celery for about five minutes. Add garlic, drained tomatoes, bay leaves, Worcestershire, and hot sauce. Stir and cook another three minutes.
3. Add rice, reserved tomato juice, and chicken stock. Bring to boil.
4. Reduce heat to low, cover, and cook until most of liquid is absorbed, about fifteen minutes.
5. Add seasoned meat and cook until done, about ten minutes.
From the creative kitchen of award-winning author Shelley Coriell.