My Guy is a big margarita fan, and living a few hours from Mexico, we've encountered some great tequilas in local restaurants and during our trips to nearby Puerto Peñasco. The Gran Patron Platinum that's used as a murder weapon in one of my Det. Lottie King stories is one of the best tequilas around, especially if you like your tequila on the rocks. If I were at Lottie's retirement party, I would buy her a Peach Margarita like this one. This recipe appears in ROUGH DAY: Detective Lottie King Mystery Short Stories, Vol. 1. Enjoy!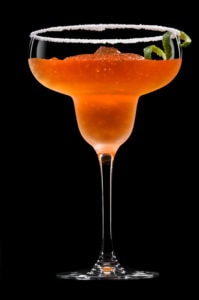 Peach Margarita
Heavenly when made with fresh white peaches at the peak of summer!
Yield: Serves 1; Prep time: 5 minutes; Total time: 5 minutes
Ingredients
1/2 cup peach puree (about two medium peaches, skin removed)
1.5 ounces silver tequila
.75 ounces triple sec
1 tablespoon simple syrup
1 lime, juiced
Ice
Sea salt
Optional:
Lime and peach slice
Directions
1. Combine peach puree, tequila, triple sec, simple syrup and lime.
2. Wet rim of serving glass. Dip in sea salt.
3. Pour peach mixture and ice into prepped glass and garnish, if desired.
From the creative kitchen of award-winning author Shelley Coriell.