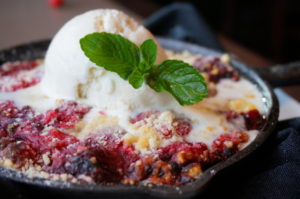 If you moved in next door to me, I'd make this recipe and deliver it to you with a hug and a smile. If you had a baby, got married, or lost a beloved, I'd make this for you. Buttermilk Crusted Blackberry Cobbler is my go-to dish for potlucks, family get-togethers, and times when I need something sweet and good bubbling in my kitchen. I usually use heart-shaped cookie cutters for the dough because…well, that's how I roll. In my world the ice cream is not an option. This recipe appears in ROUGH DAY: Detective Lottie King Mystery Short Stories, Vol. 1. Enjoy!
Best dessert ever. Seriously. Put down the book and go make this now.
Yield: Serves 8; Prep time: 20 minutes; Cook time: 1 hour; Total Time: 1 hour 20 minutes
Ingredients
Filling :
1-1/2 pounds fresh Marion blackberries (frozen triple berry mix is great, too)
1 cup sugar
3 1/2 tablespoons flour
1 tablespoon vanilla extract
Crust :
2 tablespoons sugar
1 1/2 teaspoons baking powder
1/2 teaspoon salt
2/3 cup butter
1 cup buttermilk
2 1/3 cups flour
Topping :
1 tablespoon melted butter
1 tablespoon sugar
Optional :
Vanilla ice cream
Directions
1. Preheat oven to 350 degrees and grease a large casserole dish.
2. In a medium bowl, combine berries, sugar, flour, and vanilla. Pour into greased dish.
3. In a large bowl, mix sugar, baking powder, and salt. With a pastry cutter, cut in butter. Add buttermilk and 1 1/2 cups of flour to form a sticky dough. Spread remaining flour on work surface and knead dough until most of the flour is incorporated. Roll dough to 1/4-inch thickness and cut into 2-inch pieces. Cover berry filling with dough, overlapping pieces.
4. Drizzle melted butter over dough and sprinkle with sugar.
5. Bake at 350 degrees until crust is golden brown and filling is bubbly, about one hour. Cover with foil if getting too brown.
6. Serve warm over vanilla ice cream.
From the creative kitchen of award-winning author Shelley Coriell
www.shelleycoriell.com