When I was young, my mother worked in a library, and once a week she'd bring home an armload of cookbooks. Even as I child, I was an avid foodie, and I'd sit with my mom at the kitchen table reading those cookbooks like most teens would linger over Tiger Beat and Seventeen Magazine.
It must be something in the genes, because my youngest daughter loves to read cookbooks and food blogs. She's also the family's finest baker and regularly makes these Brown Butter Salted Caramel Snickerdoodles, which are always a huge hit with family and her friends.
These are my favorite cookies on the planet. They are salty-sweet, buttery, chewy, and a tad bit cinnamon-y. Yes, they take time, but they are worth it. Try these, good people! Then send me a note praising their awesomeness, which I'll pass on to my youngest daughter. 🙂 This recipe for Brown Butter Salted Caramel Snickerdoodles appears in ROUGH DAY: Detective Lottie King Mystery Short Stories, Vol. 1. Enjoy!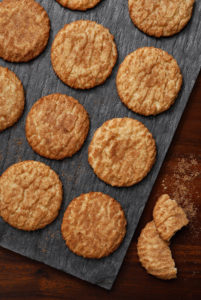 Brown Butter Salted Caramel Snickerdoodles
Sweet and salty with a gooey center and a cinnamon kick!
Yield: Two dozen cookies; Prep time: 1 hour and 15 minutes; Total time: 1 hour 30 minutes
Ingredients
1 cup unsalted butter, sliced
2 1/2 cups all-purpose flour
1 teaspoon baking soda
2 teaspoons cream of tartar
1/2 teaspoon ground cinnamon
1/4 teaspoon sea salt
1 1/4 cups dark brown sugar
1/2 cup granulated sugar
1 large egg
1 egg yolk
2 teaspoons vanilla extract
1 tablespoon plain Greek yogurt
1 cup caramel squares, cut in half
For rolling the cookie dough:
1/4 cup granulated sugar
2 teaspoons ground cinnamon
Sea salt for topping cookies
Directions
1. Place sliced butter in heavy-bottomed saucepan and cook over medium heat, whisking often until it turns brown and you smell a nice, nutty aroma. Set aside to cool.
2. Whisk flour, baking soda, cream of tartar, cinnamon, and sea salt in a medium mixing bowl and set aside.
3. In a large mixing bowl, cream together the browned butter and sugars. Beat in egg, egg yolk, vanilla extract, and Greek yogurt. Mix in dry ingredients until just combined.
4. Form the dough into a large ball, cover tightly with plastic wrap, and place in refrigerator for 30 minutes.
5. Pre-heat oven to 350 degrees.
6. Divide and measure chilled dough into one tablespoon portions, and roll each into a ball. Flatten balls with palm and place one caramel half onto each circle. Tuck dough around caramel and roll into a smooth ball again.
7. Mix 1/4 cup sugar and 2 teaspoons ground cinnamon in a small bowl. Roll dough balls in sugar mixture and place on baking sheet. Sprinkle with sea salt.
8. Bake snickerdoodles for 8-10 minutes until brown around the edges but still soft in the center and there are cracks on the surface of the cookie. Allow snickerdoodles to cool 2-3 minutes on the baking sheet. Transfer to wire rack and let cool.
Recipe adapted from Two Peas and Their Pod
From the creative kitchen of award-winning author Shelley Coriell
www.shelleycoriell.com