I love food. And I love murder mysteries. It was only a matter of time before I combined the two in a book project. Woot! I initially decided to add recipes to my new Detective Lottie King Mystery Short Story Series simply because I love novels with recipes, especially mystery books. But then as I studied the short story market, I saw that the biggest reader complaint with short stories is that they weren't "long enough." It sounds odd, but in my writerly mind, it makes sense. Short story readers weren't feeling "satisfied" after they read a short story. They wanted "more" but not necessarily words. So I did a few things with my Det. Lottie King Mystery Short Story Series to give my readers a "fuller" reading experience, including adding some fun or memorable recipes from my own kitchen. This recipe for Ice Cream in a Bag is super simple and kid-friendly. It appears in ROUGH DAY: Detective Lottie King Mystery Short Stories, Vol. 1.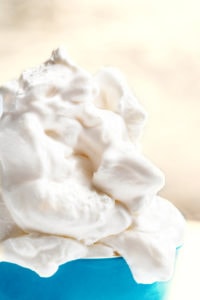 Ice Cream in a Bag
Cool and fun-to-make, this easy dessert is perfect for kids of all ages!
Yield: Serves 2; Prep time: 10 minutes; Total time: 10 minutes
Ingredients
1 cup half-and-half
2 tablespoons sugar
1/2 teaspoon vanilla extract
1/2 cup rock salt
About 8 cups of ice cubes
1 pint-size zipper plastic bag
1 gallon-size zipper plastic bag
Your favorite mix-ins: fresh fruit, crushed peanut butter cups or candy bars, cereal, etc.
Directions
1. Combine the half-and-half, sugar, and vanilla extract in pint-size bag. Seal.
2. Place the ice, salt, and pint-size bag in gallon-size bag. Seal. Shake the bags until the half-and-half mixture hardens, about five to ten minutes.
3. Take the small bag out of the large one and add mix-ins.
4. Eat straight from bag.
Author's Note: I first made this fun dessert with my three daughters, then pre-school age, during one of Arizona's notoriously hot summers. Forced indoors by 110 degree temps but needing to do something active, we prepared bags for each of us, turned on some upbeat music, and danced. Ten minutes later, ice cream! This also works well with large groups. My Girl Scouts loved it. My favorite mix-in: chocolate toffee bits. Detective Lottie King would definitely add chopped peaches. Enjoy!
From the creative kitchen of award-winning author Shelley Coriell