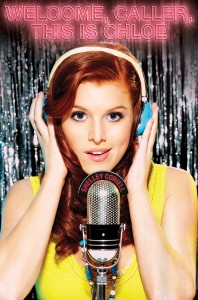 WELCOME, CALLER, THIS IS CHLOE – my young adult novel about a big-hearted girl trying to save her high school's struggling radio station – is finally here! Right now. On bookstore shelves. You can touch it. Smell it. Kiss it (I did…but I'm the geeky author). And buy it.  Or ask your local library or school library to buy it. To celebrate, I'm giving away a $50 gift certificate to your favorite electronics or radio store and ten CHLOE swag packs.
Hands down, my favorite CHLOE scenes are those at the radio station, and I absolutely fell in love with the radio staff. They're a fun, quirky bunch of outsiders desperately trying to keep KDRS 88.8 The Edge on the air. (Think GLEE in a high school radio station.) Each of the radio staffers plays an important role in running the station and in helping Chloe deal with problems with her best friends, ailing grandmother, and school service project. Meet the staff:
Talk Show Host – Chloe
Chief Engineer – Duncan
General Manager and News Director – Clementine
Music Director – Taysom
Arts & Entertainment Reporter – Haley
Sports Reporter – Frick
Public Service Announcements – Frack
To win the $50 electronics/radio store gift certificate or one of ten CHLOE swag packs, use the rafflecopter below. You'll need to answer an EASY question about KDRS Radio 88.8 The Edge. For bonus entries, you can tweet news of CHLOE's release, like on Facebook, or follow me on Twitter.
Feel free to leave a comment below about what type of position you would have if you were on the staff of a high school radio station. The giveaway ends Friday, May 18. Good luck!
// <![CDATA[
// < ![CDATA[
// < ![CDATA[
// < ![CDATA[
/*{literal}{/literal}*/
// ]]>
a Rafflecopter giveaway