*** Update Feb. 1 *** And the winners* of this leg of the YAmazing Race and CHLOE Pit Stop are:
Hannah (Jan. 16 12:42 pm) *** CHLOE ARC and bottle cap necklace! ***
Cassie *** CHLOE ARC and bottle cap necklace! ***
Heather Rosdol
Emily Voss
Petra @ Safari Poet
Veronica
Kiara Marie
Simran
Katy Bauml
Zara D. Garcia-Alvarez
*Yep, I doubled the number of winners because of your enthusiasm for my niece, Samantha, and her Little Goody 2 Shoes project. So glad to know this world is full of people with big hearts. More hugs!
*** End Update ***
Welcome Racers! You've reached the pit stop for WELCOME, CALLER, THIS IS CHLOE on the YAmazing Race with MGnificent prizes, hosted by 50 2012 Apocalypses Debut Authors. I'll make this easy on you dear, wonderful racing readers.  CHLOE is the story of a big-hearted, vintage-shoe-wearing girl who is ostracized by her best friends and forced to join her high school's struggling radio station where she starts her own radio call-in show and falls for radio techie Duncan Moore, a quiet soul with a romantic heart. On and off the air, Chloe and Duncan learn lessons about love, listening, and loneliness.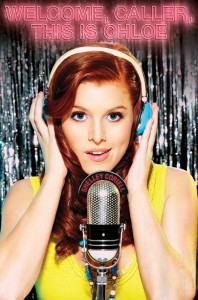 BONUS CONTEST: Have a few extra minutes and a big heart? Good. Because you can win an Advance Reader Copy (ARC) of CHLOE and one of five blingy bottle cap necklaces, AND you can help raise money to buy shoes for kids who don't have any. WELCOME, CALLER, THIS IS CHLOE seems like a light, funny book, right? It is, but it also has some tender and unexpectedly serious moments as Chloe deals with her ailing grandmother, Duncan's past, and a community service project she must complete in order to pass her junior year. Since she loves vintage shoes, Chloe decides to collect shoes for impoverished children. However, her school counselor signs her up to do after-school promo work at her school's struggling radio station.
Chloe doesn't get to send shoes to kids in need, but YOU can. Here's how it works. Simply leave a comment on this blog and you will be entered in a contest to win one of five bottle cap necklaces from Little Goody 2 Shoes, which means I'll make a $5 donation in YOUR NAME to this program which raises money to buy shoes for kids in Ethiopia. Little Goody 2 Shoes is run by Samantha, a middle-schooler  in St. Louis, Missouri, who is my niece and the inspiration behind Chloe's shoe addiction. 100 percent of the donation I make for you goes for shoes. Cool, huh?
So…you leave a comment on this blog…perhaps about your favorite shoe. I select FIVE random winners. I make a donation to Little Goody 2 Shoes in the winners' names and they get some bling. I'll also throw in a CHLOE ARC to one of the FIVE winners.
BONUS POINTS: If you pre-ordrer CHLOE, like on Facebook, add to your shelf on Goodreads, follow me on Twitter, or acknowledge Chloe's greatness on the glittery social media outlet of your choice, I'll enter you for each shout out. Just note it in your blog comment. I trust you. 🙂 CHLOE's Bonus Contest ends January 31. Good luck!
Your next pit stop: Marissa Burt and her April 2012 Middle Grade fantasy debut, STORYBOUND!
Hugs and happy racing!
Shelley